Proteomics Facility
Mass Spectrometry and Proteomics core facility of NCCS combines high-throughput mass spectrometry technologies with advanced bioinformatics to identify molecular signatures of diseases relying on cascades of intricate pathways and signalling. This would aid the researchers, engaged in path breaking discoveries and mechanistic understanding of biological processes, precisely through identification and characterization of proteins and its posttranslational modifications in large scale. It also facilitates comparative analysis of proteins and its levels for comparison with potential application in a wide range of diseases towards biomarker discovery. The facility is being used extensively by in-house users as well as by external organizations for advanced molecular and biomedical research.
Instruments Available
The central facility for mass spectrometry and proteomics of NCCS houses the following instruments.
Orbitrap Fusion Tribrid LC-MS/MS system (Thermo Scientific) combines the best of Quadrupole, Ion-Trap and Orbitrap mass analysis in revolutionary tribrid architecture to provide unprecedented depth of analysis and ease of use. The high resolution accurate mass spectrometry system enables analysis of the most challenging low-abundance, high-complexity samples to identify more compounds faster, quantify more accurately and elucidate structures more thoroughly. This system is capable of multiple dissociation techniques viz. CID, HCD, and ETD with Ion Trap or Orbitrap detection at any level of MSn which maximizes the flexibility for research applications. The system performs a wide variety of analyses, from in-depth discovery experiments to characterization of complex PTMs and comprehensive qualitative and quantitative workflows.
4800 MALDI TOF/TOF system (Sciex) is a tandem time-of-flight MS/MS system identifies proteins by determining accurate masses of peptides formed by enzymatic digestion. Additionally, the system can more definitely identify and characterize proteins by isolating and fragmenting a molecular ion of interest and measuring the fragment ion masses.
4000 Q-Trap LC-MS/MS system (Sciex) is a hybrid triple Quadrupole/linear Ion Trap mass spectrometer. The system is used for targeted proteomic applications, metabolomic applications and lipidomic applications.
Gas Chromatography Mass Spectrometry (GC-MS) system (Agilent) with 7890B GC and 5977A MSD  provides unmatched sensitivity for ultra-trace analysis, and increased performance. It is highly suitable for        volatile and semi-volatile compounds. GC-MS set-up is used for identifying volatile metabolites involved in  many diseases.
Mr. Vijaykumar M. V. Technical Officer C
Mr. D. Venkateshwarlu Naik Technician C
Services and charges
Sr. No.

Service Details

Price Per Sample

Academia

Non-academia

1

Intact Mass [MALDI-MS]

5,000/-

6,000/-

2

Protein Sequencing (digested
sample) [MALDI-MS/MS]

7,500/-

10,000/-

3

Protein Sequencing (from gel band) [MALDI-MS/MS]

10,000/-

13,000/-
 

4

LC-MS/MS analysis

[4000 Q-TRAP]

9,000/-

12,000/-

5

GC-MS analysis

[AGILENT GC-MS]

9,000/-

12,000/-

6

LC-MS/MS proteome analysis (digested sample)

[ORBITRAP MS/MS]

15,000/-

20,000/-

7

LC-MS/MS proteome analysis (including sample preparation) [ORBITRAP MS/MS]

20,000/-

30,000/-

8

LC-MS/MS Quantitative proteomics (Labelled samples)[ORBITRAP MS-TMT LABELING]

35,000/-

50,000/-

9

LC-MS/MS Quantitative proteomics (Including Labeling)[ORBITRAP MS TMT LABELING]

50,000/-

70,000/-

10

LC-MS/MS PTM analysis (Enriched sample) ORBITRAP MS]

40,000/-

55,000/-

11

LC-MS/MS PTM analysis (With enrichment) [ORBITRAP MS]

50,000/-

70,000/-
Additional 18%GST will be added to the Sample Price
General instruction: Samples will not be analyzed till payment is received.
Disclaimer: The experimental data provided is only for research/development purposes. These cannot be used as a certificate in legal disputes.
Protocols
h2>Other Information
Orbitrap Fusion Tribrid LC-MS/MS system 
Intact proteins mass analysis
Quantitative proteomics
PTMs identification
4800 MALDI TOF/TOF system 
Indentification of molecular weight of intact proteins
Identification of proteins from gel band
identification of proteins from liquid samples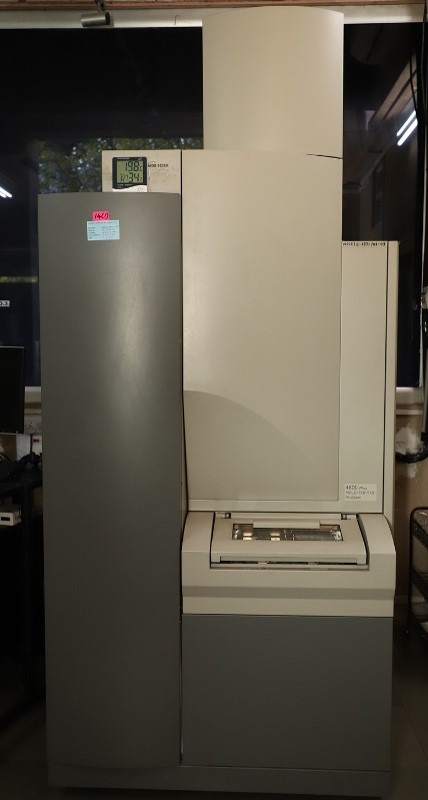 4000 Q-Trap LC-MS/MS system 
Targeted proteomics - Validity/verification of proteins
Targeted metabolimics - Quantitation /Validation of metabolites & small molecules
Gas Chromatography Mass Spectrometry (GC-MS) system
Capacity : Untargeted/Global metabolomics of small molecules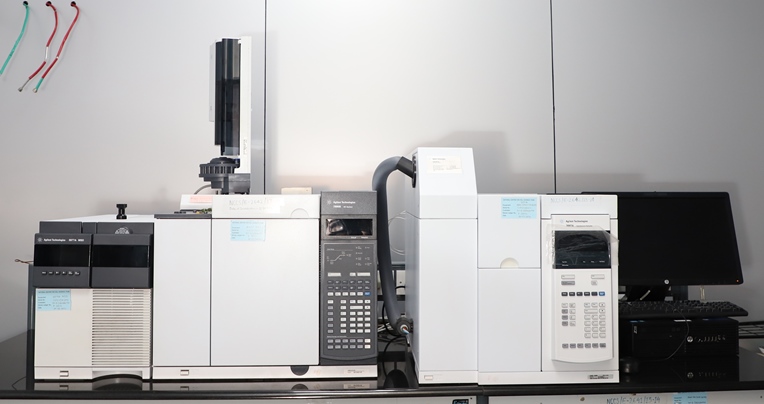 Guidelines for Sample Preparation
It is very important to prevent or minimize contamination in your sample. Tricky contaminants include keratins, plasticizers, polymers, detergents, and non-volatile buffers.
Avoid contamination with keratins. Always wear powder-free gloves for processing samples for mass spectrometry analysis.
Protein storage recommendations – Proteins in coomassie-stained gels are relatively stable at 4°C or -20°C. Silver-stained protein bands must be analyzed as soon as possible after it is isolated and purified or should be kept frozen (i.e. -20°C or -80°C).
Protein solutions containing very low levels of protein (i.e. femtomole or picomole) should be concentrated using SpeedVac or ZipTips.
Coomassie, Colloidal Blue, and similar blue stains are preferred and will generally result in the best peptide recoveries and protein ID results.
For silver staining, we recommend that you use mass spectrometry-compatible silver stain (such as SilverQuest from Invitrogen).
Not to over-stain the gel; stain for the least amount of time possible until you can just see your bands of interest.
Cut the band out as close as possible; be very selective and cut out only the center of the band; don't include any excess gel material.
Purity of the protein sample is critical for a successful analysis of the intact molecular weight and identification of a protein. It is vital that the sample does not contain any detergents/polymers (even at trace levels). Avoid using Triton, Tween, SDS, PEG during any part of the protein preparation.
Use HPLC/FPLC to purify and collect samples whenever possible.
Desalt samples prior to sample submission (e.g. HPLC, C18 SepPak SPE columns, C18 Ziptip, dialyses). Salts will have a significant impact on ionization, both for ESI or MALDI ionization.
Guidelines for availing services
Kindly provide your Job order/purchase requisition to avail desired services by specifying number of samples, type of proteomics analysis and instrument to be used.
Provided services are taxable. Hence, providing GST and PAN number of the customer/Institute/organization is mandatory for billing purpose
Please send the job order and details through e-mail/ post.
Accordingly we will generate Proforma invoice and send to you.  
Upon receiving the same, you require to pay the service charges mentioned in the Proforma invoice, to start the job order at our end.
And, upon the completion of the work, you will be provided with work report and tax invoice through e-mail/ post.
Should you have any queries regarding the sample submission and analysis, please contact us: Proteomics facility at 02025708053 or proteomicsfacility.nccs@gmail.com
Dr. Srikanth Rapole, Scientist E, In-charge
Contact Information
NCCS Proteomics Facility:  +91-20-25708053/8075
E-mail:  proteomicsfacility.nccs@gmail.com